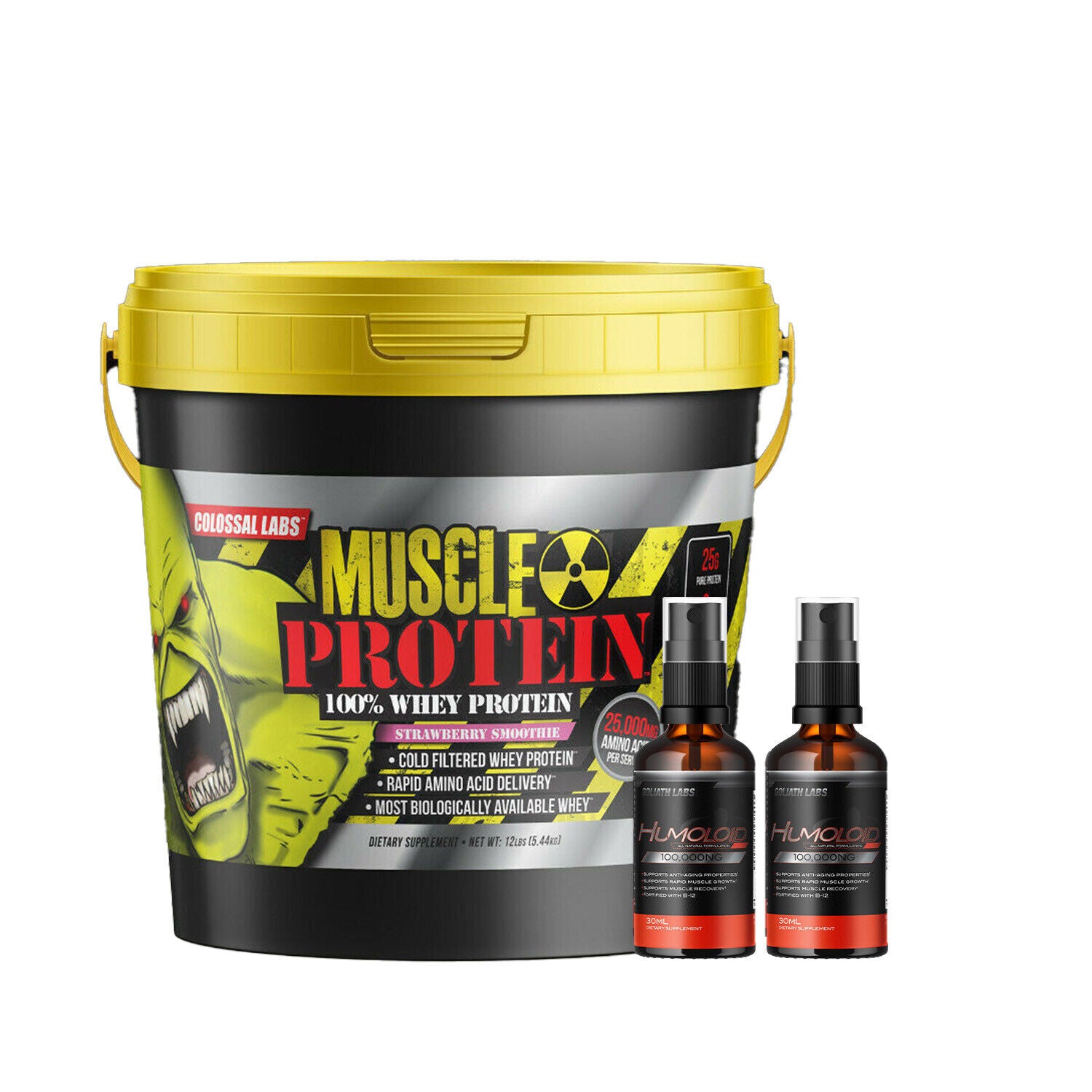 12 lbs Bucket Muscle Protein & 2 x Humoloid Liquid Combo
Protein Blend - The supplement contains a blend of whey proteins, including whey protein isolate, whey protein concentrate, and whey peptides. This blend aims to provide a total of 25 grams of protein per serving, which supports lean muscle mass.
Immune Support and Physical Recovery - Supports for lean muscle mass but also to aid in immune system support and physical recovery. Some whey proteins include additional nutrients that may contribute to these benefits.
Rapid Amino Acid Delivery - Whey protein is known for its fast absorption, providing a rapid delivery of essential amino acids to the muscles after consumption. This is beneficial for post-workout recovery and muscle repair.
High Servings per Container - The supplement comes in a container with 162 servings, which means it offers more servings per pound compared to some other protein products on the market. This can be advantageous for individuals who want to make their protein supply last longer.
Natural Flavors - The product is flavored with natural flavors, which is a common practice in many food and beverage products to enhance taste.
Goliath Labs 100% whey protein + Humoloid testosterone booster combo: Powerful sports nutrition for enhanced performance. 25g protein blend (isolate, concentrate, peptides) with natural flavors. Cold-filtered, rapid amino acid delivery. Supports muscle, immune system, and recovery. 162 servings, cost-effective and comprehensive solution for athletes. Contains Milk.
Contains: Milk
All of our products are shipped directly from our facilities within 1-2 days of order. If you wish to cancel an order please contact us at admin@goliathlabs.com within 48 hours of placing your order to allow the manufacturers an opportunity to cancel the order before it is made/shipped.
Our team of passionate experts is dedicated to bringing you the highest quality sports nutrition supplements and protein powders at fair prices. We genuinely care about your health and fitness goals and take pride in helping you achieve them. We understand that your satisfaction is the ultimate measure of our success, and that's why we back all our products with a 100% satisfaction guarantee. If there is ever a problem, please let us know, and we will go above and beyond to make it right. You can count on us to be there for you every step of the way.